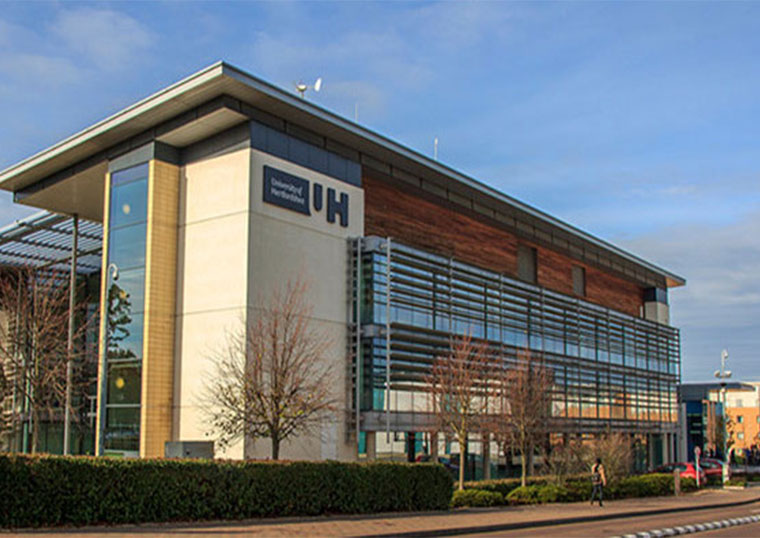 Hertfordshire is "The County of Opportunity" and nowhere is that more evident than at The University of Hertfordshire. The accolades keep coming for the county's seat of learning -with over 24,500 students studying at the Hatfield campuses. The University has recently been awarded Gold in the Government's Teaching Excellence Framework (TEF)-an amazing achievement and bettering a great many of the renowned historic universities-and can boast a figure of over 96% of graduates in work or further study 6 months after graduating. In a recent survey the majority of students said that finding a job is the most important reason for applying to go university so this figure is of great significance to all students, parents and teachers alike and employers throughout the county find suitable graduates on their doorstep.
Did you know that the majority of babies born in Hertfordshire are delivered by a University of Hertfordshire educated midwife? Or that the University is one of the largest employers in the county-employing some 3,000 staff and supporting over 11,000 jobs in the region.
Amazingly 10% of all planets have been discovered by University of Hertfordshire researchers and  the first student accommodation to be zero-carbon accredited in the UK is on one of the two Hatfield campuses. And how many people are aware that the University runs one of the largest bus companies in the South East with over 44 routes used by students and the general public.
Internationally there are students from over 100 countries currently studying at the University and the global network of over 230,000 alumni covers 190 countries-almost the entire world.
So I feel justifiably proud having such a great and successful university in our county of Hertfordshire and being a Governor of this fine institution is an honour and privilege.