Lord-Lieutenant's Cadets
Royal Marine Cadet: Royal Marine Sergeant Dan GOODBUN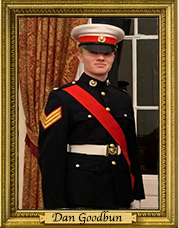 My name is Dan Goodbun and I am a Royal Marine Sergeant at the TS St Albans Sea cadet unit.
I joined cadets when I was 13 and can honestly say it was one of the best things I have ever done. Whether it was night exercises at residential camps, getting to stay on HMS Bristol or even visiting HMS Prince of Wales when it was docked in Liverpool in 2020, I have enjoyed it all.
I have risen through the various ranks to Sergeant via the promotion boards held regularly, where every aspect of my cadet knowledge from drill to map reading has been thoroughly tested.
I have also enjoyed passing this knowledge on to the younger cadets within the unit.
Throughout the pandemic, I have appreciated the fact that Cadets have for the most part still been available to me, whether that be via zoom calls or when possible in the unit itself on a Friday night.
I am proud to be representing both the Sea Cadets and the Royal Marine Cadets as one of the Lord – Lieutenants Cadets for this year. I am especially excited to be undertaking this role in Her Majesty the Queen's Platinum Jubilee year.
St John's Leading Cadet Nicole JONES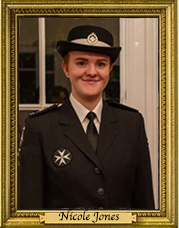 I have been a St John Ambulance cadet for 5 years and I am currently a Sergeant at Hoddesdon unit where I help lead the sessions and develop my leadership skills.
After achieving my Cadet Operational First Aider qualification, demonstration qualification and attending leadership courses, I now enjoy attending a variety of events to provide First Aid cover including festivals, races, pride and Watford Football Club. This allows me to be able to help people in need as well as deliver training to other St John members and the public.
During the recent pandemic, I trained to become a Vaccination Care Volunteer which allowed me to assist at the local vaccination centres helping the NHS vaccinate the public. As St John's vaccination programme became much larger, I spent most weekends throughout February and March helping with the delivery of vaccination training to members of the public at our London Heathrow Hypercentre.
I am passionate about St John Ambulance and the vast amount of opportunities there are for young people that allow you to become a more independent, skilful individual. I will always be grateful for the opportunities I have been given and the amazing people and friends I have met along the way and I'm proud to be a part of an incredible organisation!
Army Cadet Force: Staff Sergeant Danishta LOGANADEN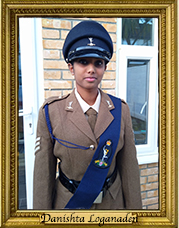 My name is Danishta Loganaden and I am a part of the Bedfordshire and Hertfordshire Army Cadet Force. I joined cadets when I was 13, since then I have worked my way up the APC syllabus and the up the ranks. I currently hold the rank of staff sergeant, I am 18 years old and a staff cadet.
Cadets have taught me how to be a good leader as well as boosted my confidence and made me a better person. I hope to encourage others to be the best that they can be. I look forward to the new adventures of being the Lord-Lieutenant's Cadet, It's an honor to be given the chance to represent the Army Cadet Force.
RAF Air Cadet: Cadet Flight Sergeant Charlotte PREECE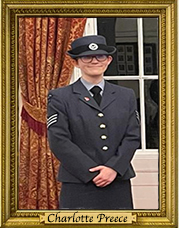 My name is Charlotte Preece and I am a member of 1066 Hitchin  Air Cadets. I joined the cadets back in 2016 and made my way up to the rank of sergeant, over this time I have had many amazing experiences such as visiting RAF stations and flying. I have also gained many qualifications in First Aid, Radio, Leadership and more. I have always been focused on being the best version of myself which is why I am passionate about encouraging other people to achieve as much as they can in the short time we have as cadets. 
This opportunity is incredible and I am very honoured to have received it. I hope that over this year I can continue to uphold the standard of the cadets before me and be a good representative of Hertfordshire and Buckinghamshire Wing.
The Lord-Lieutenant thanks the retiring cadets-Flight Sergeant Hannah Finlay, Flight Sergeant Sebastian Routledge and  Police Cadet Instructor George Mugridge for their hard work and support during the last year and wishes them all well for the future.
Army Cadet Serjeant Harry Levi St Johns Cadet Corporal Ugonna Umonnakwe will continue with the current year.
The Lord-Lieutenant thanks the retiring cadets-Cadet Staff Sergeant Williams, Able Cadet Coull and  Cadet Flight Sergeant Jenkins and Police Cadet Mansell for their hard work and support at numerous events during the last year and wishes them all well for the future.