Lord-Lieutenant's Cadets
Navy Cadet - Leading Sea Cadet Holly ALLEN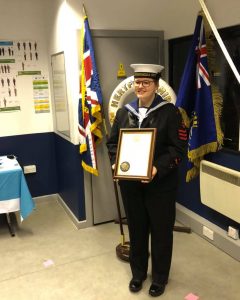 My name is Holly I'm 17 years old and I'm in year 12 at Marriotts School Stevenage currently studying level 3 health and social care, child development and music.
Since joining the cadets at age 10 I have made my way up the rates, cadets have taught me so many things starting from confidence, leadership, and self-respect it has given me the opportunity to meet new people, learn new skills and become a better person.
I really look forward to new adventures. Everywhere I've been with cadets has been amazing everyone is so welcoming and encouraging.
Other than cadets I enjoy photography and music, in the future, I am hoping to attend university where I would study to become a primary school teacher as I really enjoy working with children.
St John Ambulance - Cadet Sergeant Elizabeth BURRIDGE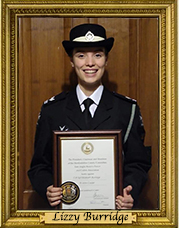 I have been in St John Ambulance Cadets for 4 years and am currently an NCO at Harpenden unit, where I help to deliver training sessions and develop leadership skills.
After gaining my Cadet Operational First Aider qualification and attending Leadership courses, I have now been invited on to the staff to help other Cadets. I have had the opportunity to attend a variety of events to provide First Aid cover, including the London Marathon, Pride, and Watford Football Club, and achieved my adult Operational First Aid qualification in September this year.
During the recent lockdown, to raise money for St John Ambulance during their coronavirus appeal, I set a personal challenge of walking 800 miles (the distance from my home to Madrid).  With the help of BBC Three Counties Radio, I have raised over £2,500.
I am passionate about promoting youth volunteering, and want to show everyone the opportunities available to them through St John – I have achieved my Bronze Duke of Edinburgh's award and am doing my Gold, I received the prestigious Grand Prior Award and the Service Award, and have made the best friends along the way!
Army Cadet Force: Cadet Company Sergeant Major Amy LOWIN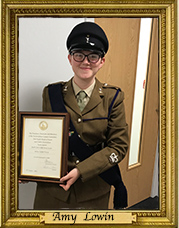 My name is Amy Lowin and I am a part of the Bedfordshire and Hertfordshire Army Cadet Force. I joined the Army Cadet Force not too soon after my twelfth birthday. I have made my way up the ranks and I currently hold the rank of Company sergeant major and I am very proud to have gotten this far within my cadet career. I am 18 years old and the first staff cadet in the county and I hope to set a good standard for other cadets to follow after me.
I always try my best to encourage others to do their best at all times. It's very important to me that everyone tries their best to achieve what they can in the little time we have as cadets. I have had many amazing experiences in cadets and I have learnt many amazing skills and I hope to continue to have these experiences through my role as Lord-Lieutenant's Cadet. It's an honour to be given the chance to represent the Army Cadet Force and I will try my best to uphold the good standard others before me have set.
RAF Air Cadet: Cadet Flight Sergeant Isobel SWANN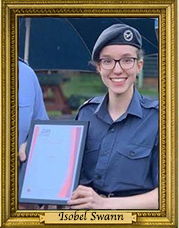 My name is Isobel Swann and I am in Year 13 at Dr Challoner's Grammar School in Amersham, studying for A-Levels in Maths, Further Maths, Physics and Geography. Next year I hope to study Natural Sciences at University.
I have been a member of 2313 Rickmansworth and Chalfonts Sqn for 4 and a half years and I currently hold the rank of Flight Sergeant. One of the highlights of my time in cadets has been the Wing Expedition to Borneo in 2019 where we took part in a community project, climbed Mount Kinabalu and spent 4 days sleeping in the jungle. I have also performed at Birmingham Military Tattoo with the Air Cadet National Marching Band and represented the region in Cross Country and Athletics.
Other than cadets, my hobbies include playing the saxophone and piano and I also love to play sport. I enjoy supporting my favourite football team Swindon Town when I can.
I am looking forward to representing the Wing during my year as one of the Lord Lieutenant's Cadets for Hertfordshire and I am very grateful for the opportunity.
St John's Cadet Corporal Ugonna UMUNNAKWE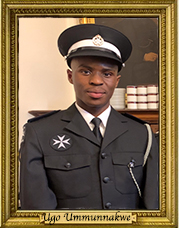 I am a student at The John Henry Newman School in year twelve studying for my A-levels in the sixth form. Currently I study Biology, Chemistry, Physics and Sociology with aim to study either biomedical sciences or medicine at university.
I have been a member of St. John Ambulance for eight years and am currently a non-commissioned officer in the Stevenage cadet unit where I have been able to adopt a leadership position in the unit by supporting cadets and assisting staff to organise sessions whilst also developing my leadership. I am extremely proud to be a member of the organisation particularly because of the good work St John do in our society.
Within St John I promote volunteering amongst young people and frequently go on duty in order to develop my skills as a first aider within the organisation. I aim to motivate others to celebrate the diversity of young people in Hertfordshire and to overcome discrimination.
I am earnestly grateful and proud to be the first Lord-lieutenant's cadet in Hertfordshire representing St John and look forward to interacting with many other young people in voluntary and military services.
I am committed to the achievement of high standards and aim to continue the great work of St John Cadets and hope to be an ambassador for young people in Hertfordshire as the Lord-lieutenant's cadet.
The Lord-Lieutenant thanks the retiring cadets-Flight Sergeant Hannah Finlay, Flight Sergeant Sebastian Routledge and  Police Cadet Instructor George Mugridge for their hard work and support during the last year and wishes them all well for the future.
Army Cadet Serjeant Harry Levi St Johns Cadet Corporal Ugonna Umonnakwe will continue with the current year.
The Lord-Lieutenant thanks the retiring cadets-Cadet Staff Sergeant Williams, Able Cadet Coull and  Cadet Flight Sergeant Jenkins and Police Cadet Mansell for their hard work and support at numerous events during the last year and wishes them all well for the future.