Lord-Lieutenant's Cadets
Navy Cadet - Leading Sea Cadet Holly ALLEN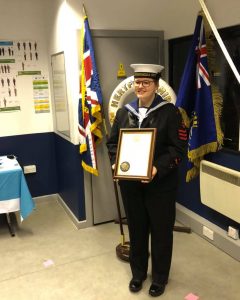 My name is Holly I'm 17 years old and I'm in year 12 at Marriotts School Stevenage currently studying level 3 health and social care, child development and music.
Since joining the cadets at age 10 I have made my way up the rates, cadets have taught me so many things starting from confidence, leadership, and self-respect it has given me the opportunity to meet new people, learn new skills and become a better person.
I really look forward to new adventures. Everywhere I've been with cadets has been amazing everyone is so welcoming and encouraging.
Other than cadets I enjoy photography and music, in the future, I am hoping to attend university where I would study to become a primary school teacher as I really enjoy working with children.
St John Ambulance - Cadet Sergeant Elizabeth BURRIDGE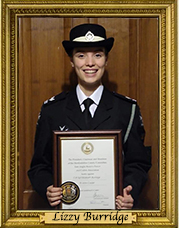 I have been in St John Ambulance Cadets for 4 years and am currently an NCO at Harpenden unit, where I help to deliver training sessions and develop leadership skills.
After gaining my Cadet Operational First Aider qualification and attending Leadership courses, I have now been invited on to the staff to help other Cadets. I have had the opportunity to attend a variety of events to provide First Aid cover, including the London Marathon, Pride, and Watford Football Club, and achieved my adult Operational First Aid qualification in September this year.
During the recent lockdown, to raise money for St John Ambulance during their coronavirus appeal, I set a personal challenge of walking 800 miles (the distance from my home to Madrid).  With the help of BBC Three Counties Radio, I have raised over £2,500.
I am passionate about promoting youth volunteering, and want to show everyone the opportunities available to them through St John – I have achieved my Bronze Duke of Edinburgh's award and am doing my Gold, I received the prestigious Grand Prior Award and the Service Award, and have made the best friends along the way!
RAF Air Cadet: Cadet Flight Sergeant Isobel SWANN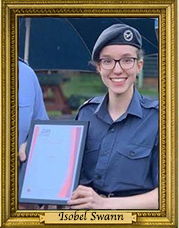 My name is Isobel Swann and I am in Year 13 at Dr Challoner's Grammar School in Amersham, studying for A-Levels in Maths, Further Maths, Physics and Geography. Next year I hope to study Natural Sciences at University.
I have been a member of 2313 Rickmansworth and Chalfonts Sqn for 4 and a half years and I currently hold the rank of Flight Sergeant. One of the highlights of my time in cadets has been the Wing Expedition to Borneo in 2019 where we took part in a community project, climbed Mount Kinabalu and spent 4 days sleeping in the jungle. I have also performed at Birmingham Military Tattoo with the Air Cadet National Marching Band and represented the region in Cross Country and Athletics.
Other than cadets, my hobbies include playing the saxophone and piano and I also love to play sport. I enjoy supporting my favourite football team Swindon Town when I can.
I am looking forward to representing the Wing during my year as one of the Lord Lieutenant's Cadets for Hertfordshire and I am very grateful for the opportunity.
St John's Leading Cadet Nicole JONES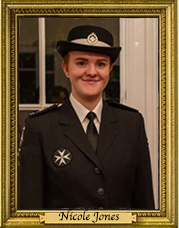 I have been a St John Ambulance cadet for 5 years and I am currently a Sergeant at Hoddesdon unit where I help lead the sessions and develop my leadership skills.
After achieving my Cadet Operational First Aider qualification, demonstration qualification and attending leadership courses, I now enjoy attending a variety of events to provide First Aid cover including festivals, races, pride and Watford Football Club. This allows me to be able to help people in need as well as deliver training to other St John members and the public.
During the recent pandemic, I trained to become a Vaccination Care Volunteer which allowed me to assist at the local vaccination centres helping the NHS vaccinate the public. As St John's vaccination programme became much larger, I spent most weekends throughout February and March helping with the delivery of vaccination training to members of the public at our London Heathrow Hypercentre.
I am passionate about St John Ambulance and the vast amount of opportunities there are for young people that allow you to become a more independent, skilful individual. I will always be grateful for the opportunities I have been given and the amazing people and friends I have met along the way and I'm proud to be a part of an incredible organisation!
Army Cadet Force: Staff Sergeant Danishta LOGANADEN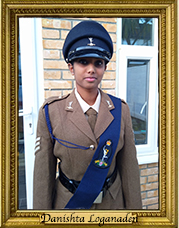 My name is Danishta Loganaden and I am a part of the Bedfordshire and Hertfordshire Army Cadet Force. I joined cadets when I was 13, since then I have worked my way up the APC syllabus and the up the ranks. I currently hold the rank of staff sergeant, I am 18 years old and a staff cadet.
Cadets have taught me how to be a good leader as well as boosted my confidence and made me a better person. I hope to encourage others to be the best that they can be. I look forward to the new adventures of being the Lord-Lieutenant's Cadet, It's an honor to be given the chance to represent the Army Cadet Force.
The Lord-Lieutenant thanks the retiring cadets-Flight Sergeant Hannah Finlay, Flight Sergeant Sebastian Routledge and  Police Cadet Instructor George Mugridge for their hard work and support during the last year and wishes them all well for the future.
Army Cadet Serjeant Harry Levi St Johns Cadet Corporal Ugonna Umonnakwe will continue with the current year.
The Lord-Lieutenant thanks the retiring cadets-Cadet Staff Sergeant Williams, Able Cadet Coull and  Cadet Flight Sergeant Jenkins and Police Cadet Mansell for their hard work and support at numerous events during the last year and wishes them all well for the future.