Lord-Lieutenant's Cadets
RAF Air Cadet: Cadet Flight Sergeant Ellis JENKINS-1166 Welwyn Garden City Sqn.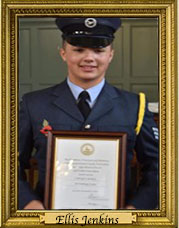 I am Ellis Jenkins and I live in Welwyn Garden City in Hertfordshire. I study Level 3 Hospitality and Events Management at Oaklands College in St Albans after studying one year of Professional Cookery Level 1. When I leave college, I hope to obtain a management role in a high-class restaurant, and one day hope to open and run my own restaurant.
As well as studying I have a part time job at Auberge Du Lac on the Brocket Hall estate. I have worked there since April 2018 and thoroughly enjoy working with my colleagues and learning new skills along the way.
I have attended RAF Air Cadets for nearly four years now and have progressed through the ranks as well as gaining qualifications and skills along the way including first aid, shooting and The Duke of Edinburgh Award Scheme.
I am enjoying meeting and talking to new people and attending lots of different engagements with the Lord Lieutenant and can't wait for the events in the months to come.
Sea Cadet Corps: Able Cadet Harry COULL-Welwyn & Hatfield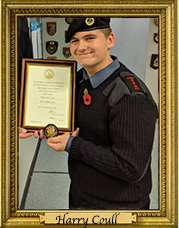 My name is Harry Coull and I was born in Welwyn Garden City; I will be 16 years of age in early April this year. I attended St. Johns Digswell primary school, and I currently attend The Sele School in Hertford where I will taking my GCSEs later this year.
I plan to continue at school and complete my A-levels in Mathematics, Physics, and Chemistry, alternatively I may goto Oaklands college in Welwyn Garden City and undertake level 3 Extended Diploma in Engineering as I intend to join the Royal Navy as an engineer.
I joined the Sea Cadets at the age of 10 and have thoroughly enjoyed my time there. The first qualification I earned was Basic Piping. I have been to HMS Raleigh and HMS Excellent to do 2nd and 1st class qualifications. My proudest moment, apart from gaining the title of The Lord-Lieutenants Cadet, is getting my 1st Class Seamanship at the age of 14 years. I'm now working towards my Master Coxswains badge as well as my Mechanical Engineering 2nd Class.
Army Cadet Force: Cadet Staff Sergeant Lucy Williams-Hitchin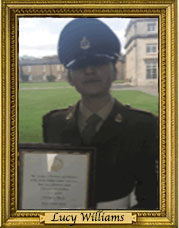 My name is Lucy Williams, I am 16 years old and am currently in
education at Hitchin Girls' School sixth form in Year 12. I am the
type of person who loves to help others and is always offering
help to those in need. I have been involved with the Army Cadet
Force for three and a half years, where I learnt many skills,
leading to increased confidence. I am looking forward to this
new role of a Lord Lieutenants Cadet.
Police Cadet Jac Mansell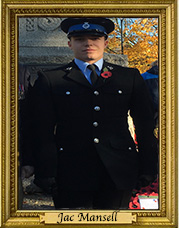 My name is Jac Mansell, I live in Harpenden. I have just finished my education at college and looking to join the local police service.
I have completed a Level 3 extended Diploma in Public services. I have been a police cadet for three year and completed many large events. In my first two years of being a cadet, I have had the opportunity to attend the county cadet competition wining it both years running.
My greatest achievements have been being named one of the Lord-Lieutenant's Cadets and winning cadet of the year for Hertfordshire Constabulary, after helping establish the mini cadet scheme in Hertfordshire.
The Lord-Lieutenant thanks the retiring cadets-Cadet RSM Hukins, Able Cadet Andrews and  Cadet Flight Sergeant Baker and Police Cadet Ozkaratas for their hard work and support at numerous events during the last year and wishes them all well for the future.