Lord-Lieutenant's Cadets
RAF Air Cadet: Cadet Flight Sergeant Lucas BAKER 220 (St. Albans) Sqn Air Training Corps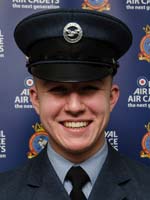 Lucas Phillip Baker
Currently, I live in Hatfield, with my family, mother, father and younger brother. I am studying Public Services at Oaklands College in St Albans with the hope of gaining the qualifications to join the Royal Air Force in the future. 220 St Albans Squadron is the unit I attend on a Monday and Friday night, holding the rank of Flight Sergeant. My main duty on squadron is the developing and improving the cadet NCO team and ensuring a smooth running on and off squadron parade nights.
When not at college or cadets, I work as a bartender in a bar in St Albans city centre, The Beechhouse, as well as a delivery rider for Deliveroo. Both of these jobs keep me engaged socially through communication with customers as well as motivating me to learn new skills and push myself, particularly in mixology. Keeping fit is an additional benefit to riding with Deliveroo.
Since joining cadets in 2013, I have attended multiple summer camps all over the country from RAF Spadeadam and RAF Cranwell to RAF Leeming. These experiences have allowed me to improve my leadership skills, communication, and drill, all whilst meeting and socialising with other cadets from the Wing and Region. Following these, I have gratefully been given the opportunity to go to Canada this year as part of the International Air Cadet Exchange scheme. This is a worldwide scheme, where 500 deserving cadets get to exchange with other nations for 3 weeks, countries involving countries such as America, United Kingdom and Australia.
Over my time in cadets, I have been able to gain a range of qualifications and achievements. These include an Activities First Aid, the Master Cadet qualification, becoming a Drill Instructor and gaining a Level 3 Qualification in Leadership and Management, just to name a few. Most recently I have been also awarded the Lord-Lieutenants cadet for Hertfordshire.
In addition to these, last year I completed the gruelling Junior Leaders course, attending various weekends over the course of 9 months learning key fieldcraft, tactics and team skills, finishing with an intense military-style exercise, that extended over 10 days on Stanford Training Area. Due to my continued interest and success in this, I have been given the opportunity to go back this year as a Qualified Junior Leader and help train, coach and mentor the next course of potential students, having my own section to look after also.
Sea Cadet Corps: Able Cadet Ryan ANDREWS Hertford & Ware SCC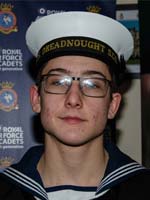 I am 16 years Old. I was born in Harlow on the 06 Jan 2002
I lived in Harlow for 5 Years and moved to Ware, Hertfordshire and have lived there since. I went to a very small village school that was local to me and I now attend Richard Hale School in Hertford. I study Mechanics, Engineering, Physics, Chemistry, Biology and Food Tech as well as Maths and English.
I was Diagnosed with Type 1 Diabetes aged 18 Months. I use an Insulin Pump which is attached to my Body 24/7 365 days a year. I am on a Basal/Bolus regime, this has never stopped me for exceeding at everything I have done.
I joined a local martial arts group and there I studied Kyokushin Karate at the age of 6. I attended twice a week up till I was 9 years old. I took part in many competitions and eventually achieved my goal of achieving British champion, English Champion and most Spirited Fighter for my age Group.
I have competed in many sports such as Football at Arsenal academy, Hertford Town Football club, Rugby with my school and Go Karting at Brentwood Race Track.
I joined Sea Cadets when I was Ten and have stayed with them up to the present day. I have worked my way up through the ranks to my present Rate of Able Cadet. I hope to be completing my Leading Cadet very soon. Within the Sea Cadets I have gained lots of Qualifications and life long skills such as RYA sailing 4, BCU 2 and FSRT, First Aid, RYA Powerboating, RYA Windsurfing, Campcraft. I have had the opportunity to attend Voyages on the Yachts and I have been on the tall ship Challenger 2.
I am now in Year 11 and I am doing lots of preparation for my GCSE Exams due in May/June 2018. I have completed my Bronze Duke of Edinburgh in 2017 this involved Volunteering, Skills, physical. I expedition was in the new forest on the hottest day of the year in 2017. I plan on completing My silver in 2018.
I have recently just passed my CBT and have a Motorbike which I will be able to use when I Start My Motor Mechanic Apprenticeship at AT Autos Hoddesdon, and day Release at Harlow College to study Level 2 Motor Vehicle Mechanics in September 2018.
I enjoy studying Muay Thai which I like to do 3 Times a week at a Club in Hertford. I have learnt many new skills such as Kick Boxing and Boxing. I do this as the regime is a lot tougher than general keeping fit.
My Goals for the future are to support the Sea Cadets and Teach young people life skills and Naval skills which I have gained myself. I plan on completing my apprenticeship over the next 3 years and then move onto owning my own Garage.
Army Cadet Force: Cadet Regimental Sergeant Major Edward HUKINS Berkhamsted Det. 3 Coy Beds & Herts ACF
Since Joining the Army Cadet Force 5 years ago in August 2013, I have consistently been able to develop my confidence, learn new skills and challenge myself far beyond what I thought I was capable of. Cadets has taught me to believe in myself and others and I take immense pride in using and applying the values and standards of the ACF both inside and outside of the cadet environment.
As a result, I have managed to succeed in several courses throughout my cadet Career, such as, attending and leading a Company team in the prestigious Mini Micks competition held in Northern Ireland, for two years consecutively, obtaining my 4* APC pass in summer 2017, where I was awarded Best Cadet on my 4* Fieldcraft cadre and the highest score in my Drill course and completing my Bronze and Silver Duke of Edinburgh's award. Attaining a Highly Competent overall grade and being cited as one of the best candidates on the Cadet Leadership Course in Beckingham has been one of the most significant achievements for me. I greatly enjoy using the knowledge I have gained from these courses, and the dedicated Adult instructors who run them, to teach and train younger cadets in the Company and My detachment.
I am most proud of having had the opportunity to help the Royal British Legion, Army Benevolent Fund and various other charities throughout my local community, this is and always has been the greatest honour for me as a cadet.
Outside of the ACF, I am studying for my A levels in History, Politics and Philosophy at Ashlyns 6th Form, Berkhamsted. My experiences in the cadets have enabled me to become a keen public speaker, I like to participate in debates and I am involved with the local Youth Parliament, I also hold a senior leadership position within my school and mentor younger students.
I hope to go on to complete my Mastercadet this year, gain my level 3 ILM, complete my Gold DofE award and hopefully travel to Canada as part of the Cadet Exchange. I look forward to representing Hertfordshire and 3 Company in this new appointment as a Lord Lieutenant's cadet.
Ayse Ozkaratas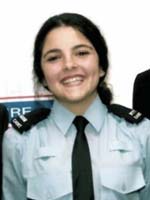 Ayse Ozkaratas from the Cheshunt Cadet group has been given the honour of becoming the Lord Lieutenant Cadet. Ayse who is a squad leader for the newly formed Cheshunt, and will be instrumental in delivering the Cheshunt Cadets Cybercrime project, was awarded their cadet of the year award at their awards in April and was subsequently awarded County cadet of the year at the Volunteers awards in June. Part of her role is to accompany the Lord Lieutenant to public engagement and promote the excellent work of the cadet scheme with Hertfordshire. She describes being a cadet as one of the best things she did, having had many great experiences and community work with her cadet group and leader. Ayse is now 17 and hopes she will be a Cadet Leader when she turns 18.