Lord-Lieutenant's Cadets
RAF Air Cadet: Cadet Flight Sergeant Harriet WADE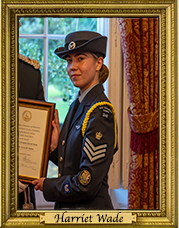 My name is Harriet Wade, and I am a member of 248 Air Cadet's Squadron in Letchworth. After joining the Royal Air Force Air Cadets (RAFAC) in 2019, I have worked my way up the rank structure to currently hold the rank of Cadet Flight Sergeant.
Over the four years of being an Air Cadet, I have participated in a vast range of courses, camps, and activities, varying from week-long fieldcraft camps, flying, instructors' courses, leadership development and so much more.
I jump at any opportunity to mentor or teach on courses, as I believe that sharing my knowledge not only benefits the younger generation of Cadets, but it also gives me the chance to give back to the RAFAC after it has enabled me to gain so many incredible experiences and develop myself so much as an individual.
To date, the RAFAC has opened so many doors for me. To name a few, I have been fortunate enough to have been on five week-long camps in four years, attain the silver leadership and first aid qualifications and become an Instructor Cadet.
Without the wonderful organisation that the RAFAC is, Hertfordshire Wing staff and everyone in my Squadron, I wouldn't be half the woman I am today.
I have to credit the confidence in myself and my abilities to my Squadron and the Hertfordshire Wing staff, and so I look forward to the upcoming year of representing us all with the honour of being the Lord-Lieutenant's Air Cadet for Hertfordshire.
Sea Cadet: Leading Cadet Millicent Walker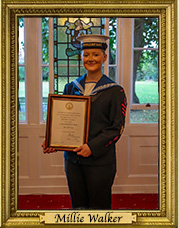 My name is Millicent Walker, a leading cadet at Cheshunt Sea Cadet unit (TS Intrepid). I joined the Cadet Corps almost 7 years ago as a junior cadet. Since then I have been developing my leadership, knowledge, boating and various other skills through the opportunities my unit and area have provided me with. 
My cadet journey has given me qualifications in physical training, shooting, offshore boating and several other specializations and proficiencies. One of the highlights of my cadet experience has been the national physical training trips I have attended. At my first national course, at HMS Temeraire, I completed my Intermediate PT whilst simultaneously winning the Temeraire trophy. This was just the beginning of my experience as a sea cadet physical trainer. Since then I have had the opportunity to volunteer as a flag bearer at the Army vs Navy rugby match at Twickenham and have returned to the national PT course to complete my advanced PT qualification. 
Another highlight from my sea cadet career was an offshore voyage on TS Royalist from Milford Heaven to Cornwall. I gained my square rig watch leader qualification by taking leadership roles throughout the trip; organizing boat handling operations and managing cadet watches.
St John Ambulance: Leading Cadet Mia BROWN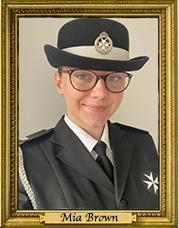 My name is Mia, and I am privileged to be a Leading Cadet in Hoddesdon's St John Ambulance unit. I recently started sixth form, in which I am studying biology, chemistry, psychology and sociology for A-level.
Since starting as a Cadet over 7 years ago, the organisation has given me every opportunity to challenge myself through courses, events, and collaboration with a wide range of incredibly dedicated people. St John Ambulance teaches vital life skills such as first aid which undoubtedly helps save lives, creating confidence and resilience in new situations, along with a number of interpersonal skills such as leadership, adaptability, teamwork and communication – which combined, make for a well-rounded and conscientious cadet.
I am extremely honoured to have had the opportunity to represent St John Ambulance at various events. From local remembrance services, the St Albans Jubilee concert and His Majesty's Trooping the Colour in London to essential first aid cover at duties, such as for the Hertfordshire County Show and Ware Christmas Market.
I am proud and overjoyed to be representing both the dedication of St John Ambulance and the selfless commitment and work of the Lord Lieutenant in the coming year.
Combined Cadet Force: Colour Sergeant Max DEADMAN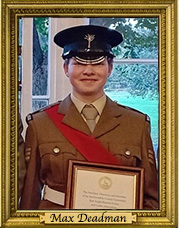 My name is Max Deadman and I am a Colour Sergeant in the army section of Berkhamsted Combined Cadet force.
I am now in my fourth year as a Cadet and I have loved every minute of it so far. I have attended a wide variety of field camps and training events, my favourite being Sennybridge in 2021, where despite the appalling weather,  we fired live ammunition for the first time. These field camps have enable me to gain necessary weapons handling qualifications, to use when training in the field and develop my tactical awareness, confidence and leadership skills.
Being a Combined Cadet has allowed me to experience the wide variety of other section specific activities in addition to those of my  army affiliation.  This has fuelled my passion for a career in engineering in the forces.
The leadership and endurance learned during my time in the CCF has helped me in many unexpected ways.  It helped me to complete my DofE Awards and gave me the confidence to plan and succeed in recent scouting events including annual ED80 (24hr 80km) challenge and the upcoming Roverway expedition. Without the CCF, I would not have completed half of what I have done so far or be the person I am now.
Combined Cadet Force: Regimental Sergeant Major Josh WATSON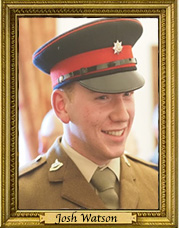 My name is Josh Watson, and I am a Regimental Sergeant Major in St Columba's College's, Combined Cadet Force. I am currently studying for A levels and hoping to read Mathematics with Physics at university next year.
As RSM I am the senior cadet, responsible for leading the school's contingent in training, drill and field exercises. In addition I also volunteer with Harris Academy, a newly established CCF, where I mentor their NCOs during camps whilst acting as their RSM. Since joining CCF I have had the opportunity to challenge myself and develop teamwork, communication, and leadership skills through events, such as Remembrance Sunday and fieldcraft competitions. Earlier this year I was delighted to be awarded the Captain General's Cup for winning champion cadet – the national individual cadet competition. My proudest and most memorable achievement was carrying the CCF standard, at the King's Coronation. It was an incredible honour to be chosen to represent the CCF organisation nationally at such a significant event.
The Lord-Lieutenant thanks the retiring cadets-Flight Sergeant Hannah Finlay, Flight Sergeant Sebastian Routledge and  Police Cadet Instructor George Mugridge for their hard work and support during the last year and wishes them all well for the future.
Army Cadet Serjeant Harry Levi St Johns Cadet Corporal Ugonna Umonnakwe will continue with the current year.
The Lord-Lieutenant thanks the retiring cadets-Cadet Staff Sergeant Williams, Able Cadet Coull and  Cadet Flight Sergeant Jenkins and Police Cadet Mansell for their hard work and support at numerous events during the last year and wishes them all well for the future.