Lord-Lieutenant's Cadets
RAF Air Cadet: Cadet Flight Sergeant Hannah FINLAY - 1166 Welwyn Garden City Sqn.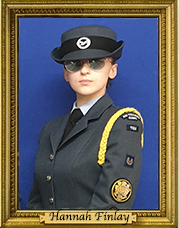 I attended Queenswood School for girls from year 7 to 12 before moving onto North Hertfordshire College in 2018 to study Health and Social Care level 3 as well as having been a part of the RAFAC since 2015.
I attended 1166 (Welwyn Garden City) Squadron in Hertfordshire and Buckinghamshire every Tuesday and Thursday, and currently live in Hitchin. From this, I look forward to a career in the RAF as an RAF Medic as well as completing my year as one of the Lord Lieutenant Cadets for Hertfordshire.
RAF Air Cadet: Cadet Flight Sergeant Sebastian ROUTLEDGE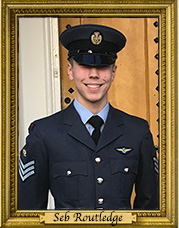 My name is Sebastian Routledge. I currently attend Berkhamsted School and I am in my final year of A-levels studying maths, geography and biology.
I joined my schools CCF at age 14 and since then, I have been involved with the RAF section for over four years. During this time I have flown Grob Tutors four times as well as completing my solo and cross country gliding endorsement. As I am in the CCF, I also lead during platoon attacks and TIBUA training with the Army section. I have also had the opportunity to experience damage repair and fire training with the Navy section in Portsmouth.
Over the next year I look forward to getting involved with the Lord Lieutenants duties within the local community.
Army Cadet Force: Cadet Staff Serjeant Harry LEVI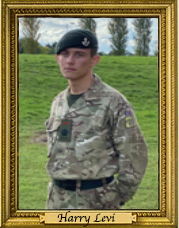 My name is Harry Levi and I attend Bedfordshire and Hertfordshire Army Cadet Force and attend my local detachment in Welwyn Garden City.
I joined the Army Cadet Force at the age of thirteen and have progressed to hold the rank of Cadet Serjeant Major at the age of sixteen. Since being in the ACF I have progressed through my subjects and have more recently been teaching and developing more junior cadet's knowledge. I have participated in a number of activities whether that be Fieldcraft training and leading my company to victory in the inter-county drill competition.
In the next year I look forward to getting involved in the Lord Lieutenants tasks and duties within the county.
Police Cadet: Cadet Instructor George MUGRIDGE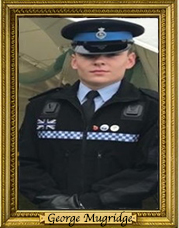 I'm George. I previously attended Chauncy School in Ware. I'm a cadet instructor with the Hertfordshire Constabulary. Prior to this, I served as a cadet, most recently as the Lead for East Herts. I am now in the process of becoming a full time police officer.
St John's Cadet Corporal Ugonna UMUNNAKWE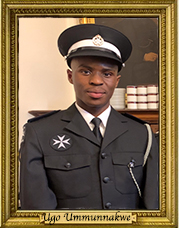 I am a student at The John Henry Newman School in year twelve studying for my A-levels in the sixth form. Currently I study Biology, Chemistry, Physics and Sociology with aim to study either biomedical sciences or medicine at university.
I have been a member of St. John Ambulance for eight years and am currently a non-commissioned officer in the Stevenage cadet unit where I have been able to adopt a leadership position in the unit by supporting cadets and assisting staff to organise sessions whilst also developing my leadership. I am extremely proud to be a member of the organisation particularly because of the good work St John do in our society.
Within St John I promote volunteering amongst young people and frequently go on duty in order to develop my skills as a first aider within the organisation. I aim to motivate others to celebrate the diversity of young people in Hertfordshire and to overcome discrimination.
I am earnestly grateful and proud to be the first Lord-lieutenant's cadet in Hertfordshire representing St John and look forward to interacting with many other young people in voluntary and military services.
I am committed to the achievement of high standards and aim to continue the great work of St John Cadets and hope to be an ambassador for young people in Hertfordshire as the Lord-lieutenant's cadet.
The Lord-Lieutenant thanks the retiring cadets-Cadet Staff Sergeant Williams, Able Cadet Coull and  Cadet Flight Sergeant Jenkins and Police Cadet Mansell for their hard work and support at numerous events during the last year and wishes them all well for the future.