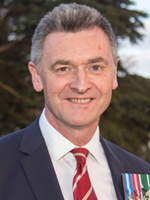 Ant Chapman
Vice Lord Lieutenant
Ant was born in St Albans and attended Hitchin Boys' School and then Portsmouth Polytechnic. Qualifying as a Chartered Surveyor he worked in London for a large Surveying practice. He then joined the family business, Chapman Ventilation, based in Welwyn Garden City where he and his brother have worked together for the past 20 years.
Ant has also had a parallel career in the Reserve Forces and holds the Rank of Captain, Royal Navy Reserve. He is currently responsible for the Royal Navy's relationship with current and future Employers of Royal Navy and Royal Marines Reservists. He has also deployed to the Middle East in support of UK operations and also commanded HMS WILDFIRE, Hertfordshire's Royal Navy Reserve Unit.
Ant is married to Katharine and they live in Welwyn Garden City with their 2 children. In his spare time he competes in triathlons and enjoys sailing in the UK and abroad. He also enjoys mentoring individuals looking to grow their own business enterprises.
Ant was appointed Vice Lord-Lieutenant on 9th June 2022.
Ant is: