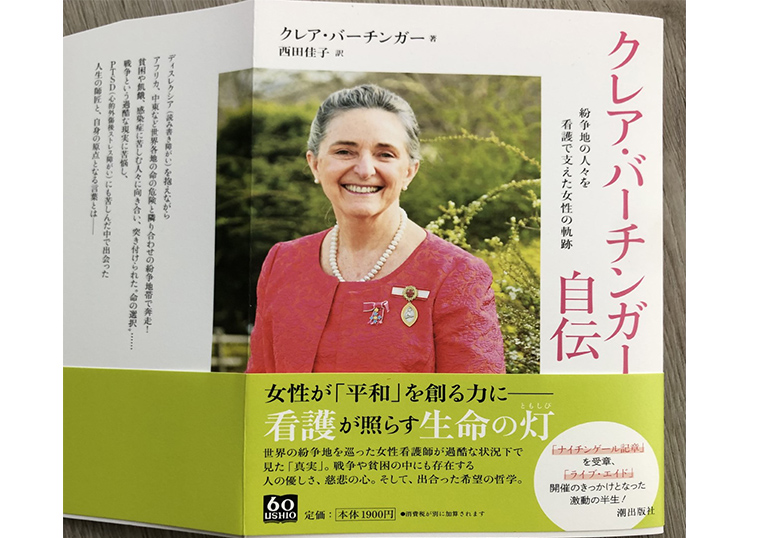 A translation from the 'Forward' of the book
2020 is the 200th anniversary of the birth of Florence Nightingale. On this auspicious occasion, I'm publishing the Japanese translation of my book, "Moving Mountains" where I share the story of my life. Nothing could make me happier. That is because ever since I was a child, I have always aspired to become a nurse.
I have had to battle dyslexia. What enabled me to not be defeated by my disorder and to qualify as a nurse was the strong conviction I had that this was my path of life and my mother's words, "don't look at the mountain, climb it."
Details about my life are illustrated in this book but I worked in over a dozen war zones, including Lebanon, Ethiopian and Kenyan as part of the International Committee of the Red Cross. I saw children starving of hunger and people wounded in battle as I tried to save their lives
Although I was working under the protection of the Red Cross, sometimes I had to cross dangerous war zones. Several times, I had to arrange ceasefires with different warlords in charge so that we could transfer the wounded to hospital. It made me realise that though these people in different groups killing each other, getting to know them allowed me to see that they were people who sought peace – they loved their families and were kind and thoughtful to others.
But why does war continue?
Through my own personal experience, I learned the value of peace and the foolishness of using war as a means of conflict resolution.
*
After I stopped working as a nurse, I became involved in nursing education. Currently, many of my students are working on the front lines in the fight against Covid-19. Every day I communicate with the nurses who care for infected patients.
Emotional stress they must be under cannot be overestimated – the kind of fear and anxiety they are feeling as they fight against this unknown virus that has no cure. Personally, I suffered from PTSD for many years myself. That is why I feel it is my mission to be by the side and offer my support.
Amidst the dark news we have been hearing every day about the Covid-19 pandemic, there was one day during the week in the UK where people came together and filled each other with a cheerful spirit. Every Thursday night at 8 pm, we conveyed our appreciation to nurses and others who worked on the front line of the combat against the novel virus. We applauded and cheered from our doorsteps, windows and balconies as we lit blue lights as a tribute to health workers and key workers.
This novel coronavirus certainly did quarantine us in our homes. No matter how much it may have disrupted our everyday lives, it cannot go as far as to sever our heart-to-heart ties with each other. I believe these bonds are a source of hope.
*
When I worked in different war zones, I saw so many people wounded and suffering from poverty and hunger. Amongst those were many who were not defeated by their reality and were earnestly striving to survive.
The one thing that these people had in common was their smiles. It seemed to me that those who were able to put smiles on their faces even during difficult conditions, never lost hope or trust and had a strong sense of determination to overcome their sufferings. I learned from them that smiles speak louder than words in terms of opening people's hearts.
Smiling is probably one of the things nurses must always remember as we care for our patients during this time of upheaval.
During the Crimean War, Florence Nightingale, known as "the lady with the lamp," held the lantern of hope and determination to save people's lives. It would make me so happy if this little book would serve its purpose by passing on that lamp onto the next generation.