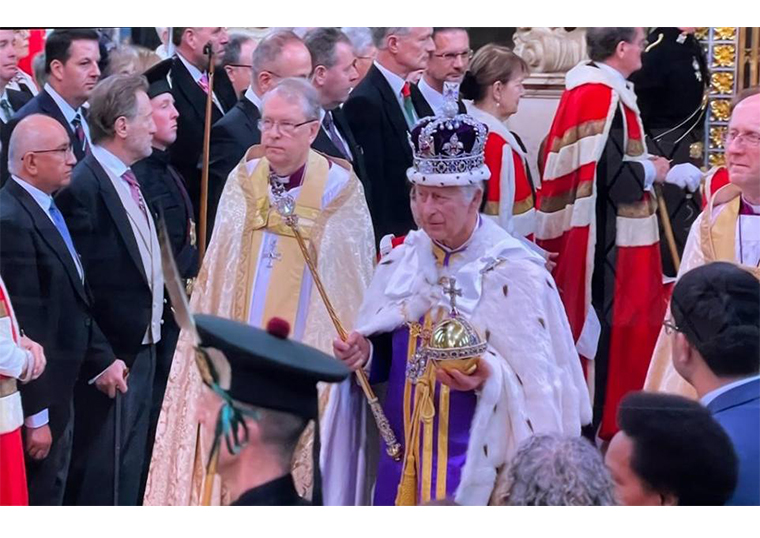 What a huge honour and privilege to be invited to Westminster Abbey as His Majesty's personal representative in Hertfordshire to be a part of such a significant event in history- the coronation of King Charles III and Queen Camilla.
Having arrived early I was in my front-row seat at 7.40 am and watched the Abbey fill with a diverse mix of people with many well-known faces from the world of film, television and the arts arriving alongside hundreds of worthy individuals from a wide variety of voluntary and public-facing organisations.
People who have been at the forefront of volunteering especially during the pandemic and others who have served the monarch and the country in many different ways.
As the hour approached the religious leaders entered and I was pleased to see my good friend Archbishop Angaelos of The Coptic Cathedral in Stevenage and also Michael – the Bishop of Bath and Wells who had until recently been Bishop of Hertford-who had such a significant role in proceedings alongside the King.
Politicians from all parties arrived including some of Hertfordshire's own members of the Cabinet and then the Commonwealth leaders proceeded by their flags.
With wonderful music playing in the background and choirs singing a mix of hymns and songs modern and ancient, members of The Royal Family of all ages began to arrive.
Finally, we saw the top of the golden carriage appear at the entrance to the West Door and the Queen entered followed by The King. As they passed a mere foot or two in front of me the emotion and possibly nerves were evident on their faces.
The service itself managed to combine historical, religious, ceremonial and constitutional traditions in such a memorable way and what has been described as "the aura" filled this historical church and there was hardly a dry eye in Westminster Abbey – me included.
It is difficult to describe the feeling of pride, honour and privilege at being present at such an event representing the people of Hertfordshire.
On returning home-still on cloud nine-I was able to watch the repeat of the ceremony and of course the wonderful military parades that followed.
As many American friends who watched the events have commented "You Brits sure do these things well". Yes-we do…as was witnessed by hundreds of millions around the country and the world.
The celebrations carried on locally on Sunday with a Service of Thanksgiving for The King and Queen in St Albans Cathedral with an emphasis on youth and a huge number of Street parties all over the county followed by The Big Help Out on Monday with many organisations promoting volunteering.
Article courtesy of The Herts Advertiser – 11th May