St Albans/Welwyn/Hatfield Area Report 17/4/20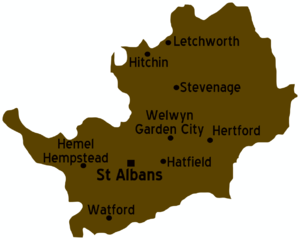 Being creative and keeping people connected
Over recent days, it has been wonderful to see posters in local roads offering practical help to neighbours, 'swap shops' for toys and books, invitations to 'help oneself' to no longer needed items, messages of support for our NHS 'chalked' in driveways and on walls, pictures of rainbows of hope in windows as well as displays of teddy bears in gardens enjoying picnics, taking exercise on a bike and relaxing on a sun lounger. All these things bring a smile during our daily exercise and demonstrate a real sense of community with everyone supporting each other through these difficult times. 'WhatsApp', telephone and other support mechanisms are also being used as a means of maintaining social contact as well as practical assistance.
Individuals, families and groups have been creative in finding new ways to enjoy spending time together by 'meeting' virtually to participate in quizzes, dinner parties, games' evenings, 'nights in' at the opera or theatre and reading bedtime stories to grandchildren. I am also aware of one group planning a 'virtual' wine tasting!
In addition, many organisations are rising to the challenge of having to do things differently. Businesses are diversifying, and we are extremely grateful to those who are offering food and other supplies to NHS staff and hospitals in our area. Many restaurants and pubs are offering 'take out' meals for collection or delivery as well as store-cupboard and fresh food items for purchase.
The Company of Ten at the Abbey Theatre St Albans have made available one of their recent productions online for free. They have also launched a project inviting individuals to submit short scripts on the topic of social isolation during the time of the Coronavirus. Scripts will be considered as to their suitability to be made into a short film. (Website: abbeytheatre.org.uk)
Many individuals in Hertfordshire, including the Lord-Lieutenant and his family, are giving of their time as volunteers in a variety of ways through various networks. It is both inspiring and humbling to see the many hours given freely as individuals seek to serve those around them.
The charity Communities 1 st, with the assistance and financial support of the two District Councils, is taking the lead on coordinating the volunteer response to the COVID-19 pandemic across St. Albans, Hertsmere, Welwyn/Hatfield, Broxbourne and East Herts to support the most vulnerable. The charity is chaired by Stuart Nagler DL and has the full support of the Lord-Lieutenant. (See more details on the Lieutenancy website. To enquire about joining the Communities 1st scheme, phone 0203 940 4865 on weekdays between 1 and 3 pm.)
Existing charities and support groups have changed their practices to accommodate social distancing measures but are still providing much-needed services. Here are some examples of what is happening locally, together with details as to how to access services:
The University of Hertfordshire has been actively involved in making hand sanitiser and donating items of equipment and supplies to NHS workers. Students have been volunteering for the NHS in various ways and the Herts Law Clinic continues to offer free legal advice via video conferencing and maintains its satellite clinic with Future Living, a Domestic Abuse charity. Facebook groups have been set up for students who are self-isolating and a range of online activities and virtual sports are on offer.
Churches St Peter's, St Michael's and St Paul's in St Albans amongst others are continuing with their services online and have also set up networks of 'telephone buddies' providing practical, pastoral and spiritual support, particularly for those self-isolating. Resources are being provided for families to use at home and a range of group activities are still continuing using online technologies.
Vineyard Church Foodbank (Feed) continues to run on Monday mornings and Wednesday afternoons. They are still taking new referrals and can arrange deliveries for those self-isolating, given a few days notice. (The referral form can be found using this link: thevineyardchurch.co.uk/feed-referral).
The Foodbank are also supporting Open Door Drug Link, Age UK and the Women's Refuge with food provisions and even gave Easter eggs to the Royal Mail staff who are based in the same road.
Redbourn Care Group in conjunction with Redbourn Coronavirus Volunteers is responding to requests for help with shopping, prescriptions and "friendly phone calls" to those who may be isolated. (See their latest newsletter on the Lieutenancy website. To contact RCG telephone (01582) 794550 0r email: info@redbourncaregroup.co.uk).
Citizens Advice offices across Hertfordshire are continuing to offer support to people during the current crisis. Although all offices are closed and no face to face appointments are possible due to social distancing, assistance by telephone, email and webchat services are available. (To contact your local Citizens Advice, visit citizensadvice.org.uk and use the search option on this page. The latest information relating to coronavirus and its impact on work, benefits, debt, housing and other issues for individuals is also available from here.)
Computer Friendly are offering telephone and email support for anyone having issues with their devices as well as an "Online Help" page on their website with links to online courses. There are also a small number of tablets available to support people who are isolated and vulnerable and who meet specific criteria. (Contact CF via (01727) 617359 or email courses@cfsta.org)
The Living Room with centres in Stevenage, St Albans and Watford has responded to the current crisis by offering online therapy meetings, including access to Alcoholics Anonymous and Narcotics Anonymous, to continue to support individuals with addictions and their families thereby minimising the risk of relapse. (Website: livingroomherts.org) Mind in Mid Herts is offering a range of online courses around mental health and well- being. (Website: mindinmidherts.org.uk)
Open Door and Centre 33 continue to prepare meals for the homeless and St Albans Council, Open Door, Drug Link and other local partner organisations are working together to ensure St Albans' rough sleepers have a place to stay during the current lockdown. (To access Open Door telephone (01727) 859113)
Herts Welcomes Refugees are keeping in touch with families 'virtually' and are also circulating online resources for adults and children. Volunteers are trying to ensure families have access to IT to enable children and young people to continue with their education as well as assisting with shopping and translating information into Arabic and distributing this to families. (Website: hwsf.org.uk)
SAHWR Specialist Domestic Abuse Services, aware of the increased risk of domestic abuse during the current time, are continuing to provide vital services to victims of domestic abuse. (Referrals can be made through the 24/7 Gateway on 0300 102 5811. Website: sahwr.org.uk)
Christians Against Poverty During these difficult times, CAP is continuing to support existing clients as best they can – in line with Government guidelines. They have regular calls with clients to check they have food, electricity etc and to keep an eye on their mental health. They continue to collect food parcels for them and signpost them to other professional services where appropriate. At this time, although they are unable to take on new clients, they will try to assist via telephone if at all possible. (Contact Rachel Martin St Albans Centre Manager on 07889 217477)