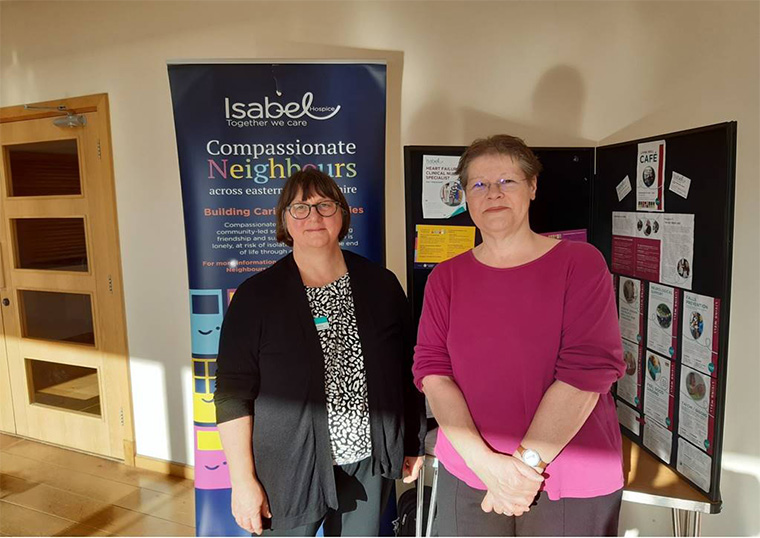 On 29 January 2020, Sarah Coffey DL was delightful to meet with Paula Bavetta and learn about the Living Well Day Care Services provided by Isabel Hospice across East Herts, and see their work in the Waltham Cross Centre. She met clients (a young lady in her 20s, and some elderly gentlemen), their families, carers, volunteers and staff providing friendship and support for end of life care. Clearly it was a comforting, friendly and happy place.
Isabel Hospice provides Day Centres at Hall Grove in Welwyn Garden City, Nigel Copping Community Building in Stansted Abbotts (near Ware), St Barnabas Centre in Thorley (near Bishop Stortford), and St Josephs Parish Centre in Waltham Cross (Borough of Broxbourne).
The centres provide useful services such as; exercise programmes (improve mobility, balance, independence), falls prevention advice, fatigue and breathlessness course, relaxation sessions, pamper sessions, singing, creative activities, drinks/cake and chats. In addition to a professional physiotherapist, nurse clinician (pain relief) etc.
Sarah also met Christine Novelli, and learnt about "Compassionate Neighbours". A community-led service working with Isabel Hospice, which provides friendship and support to isolated individuals, in their homes, nearing end of life, helping them to stay connected to the community, family and friends. She also agreed to attend a "End-of-life Cafe" at the Spotlight Theatre in Hoddesdon, on the morning of 14th May 2020, which will highlight the work of "Compassionate Neighbours" during National Palliative Care week (2nd week of May), and encourage people to talk about end of life, something which happens to us all.