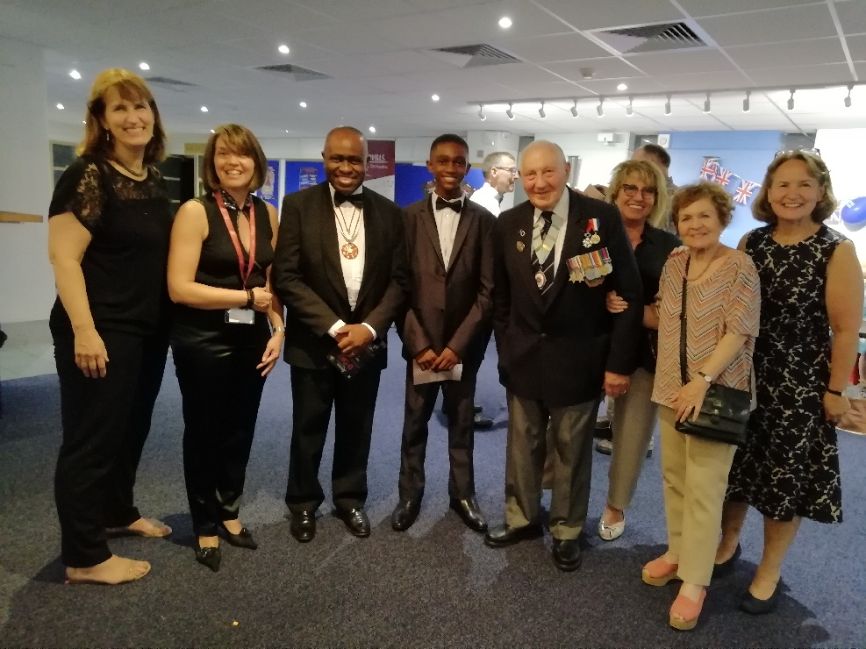 On Saturday 29th June 2019 Adoramus Choir and Orchestra returned to the Alban Arena in St. Albans with a concert to commemorate the 75th Anniversary of D-Day. The concert included the choral themes to The Longest Day and the Band of Brothers, the Hymn for the Fallen by John Williams from Saving Private Ryan, the Agincourt song from Walton's Henry V Suite, culminating in Elgar's Pomp and Circumstance March No.4. Adoramus was joined by the Beniaminek Polish Children's Choir and the Pope Paul Catholic Primary School Choir.
The concert was compered by the RAF Chaplain, Wing Commander Revd. Ian Brown who provided an excellent thread to the sung and musical pieces pulled together for a fantastic commemoration.
Deputy Lieutenant – Lionel Wallace was joined on this occasion by his son John-Ellis a Chorister in the St. Albans Abbey Cathedral Choir and is pictured with past and present members of the Adoramus Choir (Kate Turnpenny, Charlotte Santer, Liz Hitch), together with Veteran Mervyn Kersh (who attended with his daughter Lynne Kersh) and Janine Webber a Holocaust survivor.
Lionel said: "This was a truly memorable and moving reflection of both the pains of war, yet the resilience and determination of today's diverse community to unite for a lessons filled future – Wonderful!"